Carnival Ecstasy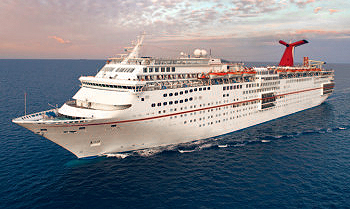 72
Starting Price, Per Night*
Carnival Ecstasy Cruises
Carnival Ecstasy has the experience under her belt to ensure that you have an amazing cruise. (And at over 850 feet long, that would be some belt!) That's not all she has, either. For starters, the bright lights of the grand atrium will remind you of the big city… and that you're not on just any ship.
You're on a ship that features great fun for the kids with our range of supervised youth activities for cruisers 2-17… including Seuss at Sea. You're on a ship with plenty for the adults to do – sit back and chill at the Serenity Adult-Only Retreat and our rather relaxing spa, or sip back something chilled at RedFrog Rum Bar and BlueIguana Tequila Bar. Or order up something a little different – like a cool cocktail complete with a flaming citrus peel – at Alchemy Bar.
But let's not forget that, most of all, you're on a ship that everyone can enjoy! There's Carnival WaterWorks for those who've just gotta make a splash, Punchliner Comedy Club for the not-so-easily-amused, Playlist Productions for those who appreciate a good song-and-dance revue, and Hasbro, The Game Show for those who take their fierce competition with a soft side of fun. And if we're talking food – and yeah, let's talk food! – we've got Guy's Burger Joint (Guy Fieri, that is) and BlueIguana Cantina (tacos and burritos, that is) serving up casual bites throughout the day, and Chery on Top to hit the sweet notes between meals, after meals… or whenever.
So – young or old – there is reason for anyone to get excited about a cruise aboard Carnival Ecstasy.
See more options for Carnival cruises. Otherwise, you can look at our fantastic selection Carnival Spirit and Carnival Splendor cruises for local voyages.
Dining
Seaday Brunch
You never need a special reason to enjoy brunch, but Carnival has the perfect one: sea days!
Chef's Choice
Our chef takes you on a worldwide culinary taste test.
Steakhouse Selections
Enjoy signature favorites anytime, in our lively main dining room.
The Carnival Deli
Pile 'em high at this neighborhood deli. Choose from old time favorites filled with juicy cuts of meat – don't forget the kosher dill.
Chef's Table
Get a backstage pass to what's cooking in our kitchen, with this private tour and meal featuring our chef's best dishes.
Coffee Bar
Take a break and revive in style at our coffee bar, stocked with premium coffees and delicious pastries.
24 Hour Room Service
Hungry, but don't feel like leaving your stateroom? Relax. Our complimentary room service is available 24 hours a day.
Kids Menu
Whether your kid loves to try new things or stick to a few faves, we've got something on their menu guaranteed to be a big hit.
Activities
WaterWorks
Built for some serious splashing
Hasbro, The Game Show
Your favorite board games come to life in this fun for all ages game show extravaganza.
The Punchliner Comedy Club
Hope you packed your funny bone – our onboard comedy performances are designed to tickle 'em just right.
Serenity Adult Only Retreat
Serenity is the faraway place… that is actually quite close to it all.
Playlist Productions
How about a show, to go? Our theater full of amazing musicals cruise along with you.
Karaoke
Channel your inner chanteuse, rock god or pop diva nd wow the world (well, fellow guest at least) at karaoke.
Ship Highlights
Serenity Adult-Only Retreat!
Chill out in this kid-free oasis that's the hub of relaxation. Take in the ocean view, hop in the hot tub, or kick back under the shade of a big umbrella.
Resort Style Pool!
Think palm trees, a cool breeze and relaxing with your favorite drink in your hand. Take a swim or just chill out. Nothing says "vacation" like new resort-style pools.
Biggest Screen You've Ever Seen!
Watch movies, concerts, news, sporting events, and even watch others shake their "groove thing" on the Carnival Seaside Theatre. It's a 12'x22′ jumbo-sized LED screen with a crystal-clear picture and a 70,000-watt, easy-to-hear sound system.
Carnival WaterWorks!
Festive, fun and just down right fantastic — Carnival WaterWorks includes the Twister Waterslide and Splash Park that's perfect fun for splishin', splashin' and slidin.' It's great fun for all ages.
Making a Grand Entrance
The Grand Atrium Plaza and Bar is just that – Grand. Mix and mingle with friends, old and new, in this breathtaking space that's the center of all things fun and fantastic.
Keep Connected
Send friends and family a quick email from the Internet cafe and don't forget to include a picture. They'll be so jealous.
Shop Happy
You'll find the perfect "Fun Ship" gifts for friends, family or yourself at the Carnival Ecstasy Galleria Gift Shops located on the Atlantic deck – everything from t-shirts to high-end timepieces, lockets to your favorite spirits (duty-free).
Spa Carnival
It's all in the technique… the relaxation technique. Feel the stress sail away as you pamper yourself with soothing treatments and massages for your body and soul at Spa Carnival… Ahhhhh.
Coffee Anyone?
Take a break from all the fun you're having and grab a cup o' joe at The Rolls Royce Cafe. It's located on the Promenade deck and the specialties include tasty coffees and sweets.
What's Up Playa?
If you love to play video games Carnival Ecstasy's got just the spot for you – no matter your age. Enjoy our video arcade which is equipped with the latest high tech video and arcade games.
Camp Carnival!
It's designed and fun-ified with cruisers ages 2-11 years old in mind. So relax, and know that your kids are supervised by an experienced team and having just as much fun as you are… maybe even more.
Circle "C"
One of the coolest spots on board is Circle "C" and it's just for kids 12-14… Video games, dance parties, late night movies, Karaoke and more. What could be more fun?
Club O2
We know just what teenagers 15-17 like… Music, video games, food, new friends and BIG fun, Club O2's got it; the perfect 'round-the-clock hangout full of the funnest things to do.
A Little Lido for a Lotta Food
Eat whatever you like, whenever you like at the Panorama Bar and Grill, our Lido deck restaurant. Hamburgers, hot dogs, pizza, salads, roast beef, chicken, fish, broccoli, rice, potatoes, ice cream, cake, pie, cookies… Do we need to go on?
It's a Lot of Fun
Live, intimate and entertaining… check out the Neon Piano Bar for the ultimate in fun. Listen to live music, make song requests, sing along or just chill with other guests.
Hold 'em or Fold 'em
Play cards like a pro at the Crystal Palace Casino. Poker's not your game? There's craps, blackjack, roulette, slots and more. It's your turn… show 'em what you've got in store.
Decadent Dining
Choose Early (6 p.m.), Late (8:15 p.m.) or
Your Time (5:45 p.m. to 9:30 p.m.) dining in the Wind Star and Wind Song Dining Rooms. We serve up culinary desires you can really sink your teeth into.
Facts
Onboard Crew: 920
Gross Tons: 70,367
Length (ft.): 855
Guest Capacity: 2,056