Starting Price, Per Night*
Royal Caribbean Australia Cruise Deals Departing from Sydney, Brisbane, & Worldwide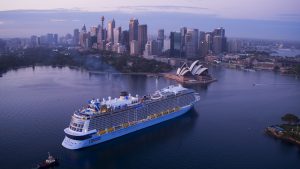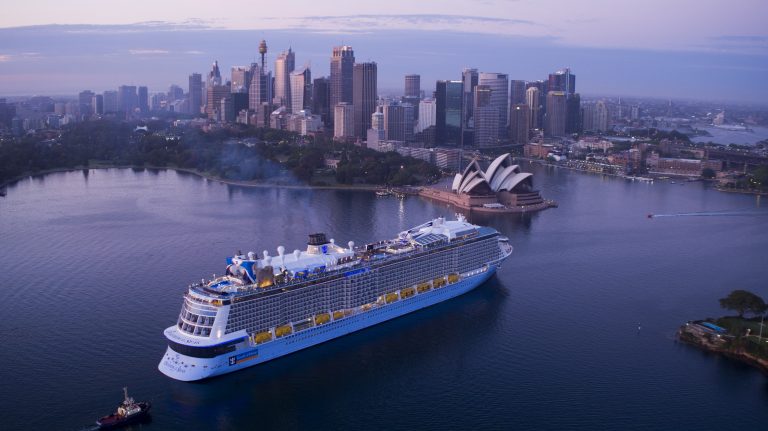 Royal Caribbean Cruises Australia is an illustrious award-winning global cruise line with a 45-year legacy of innovation and excellence in the cruise industry.
Redefining the cruising industry with the inclusion of exciting onboard facilities as well as high-tech advancements and never-before-seen activities at sea, Royal Caribbean cruises have built up a loyal base of regular voyagers. You can choose from Royal Caribbean cruises from Sydney or Royal Caribbean cruises from Brisbane, or from a number of fantastic ports across Australia and the world.
Royal Caribbean cruises boast outstanding new ships in the fleet with Oasis and Quantum Classes. These phenomenal ships are equipped with advanced technology, the fastest internet at sea and the widest variety of accommodations, from single rooms with a balcony to family-connected staterooms and luxurious two-storey lofts. Combined with personalised, attentive service, Royal Caribbean cruises are committed to delivering the best holiday experience to its guests.
Cruise Guru also has many other last-minute cruise deals available for a plethora of Royal Caribbean cruises. Furthermore, with our Price Guarantee, you can rest assured that you are getting value for money. If you are looking for a Royal Caribbean cruise for a couple, a family, or a group of friends look no further than our Royal Caribbean sale.
If you have any questions, request a callback and speak to one of our Australian-based cruise experts today. Let our team help you compare Royal Caribbean cruises 2024 or our Royal Caribbean cruises 2024. When it comes to Royal Caribbean cruises, Australia has no better choice than the fantastic cheap cruises available at Cruise Guru.
Planning to sail afar, but want to stay on an affordable budget? Why not check out our selection of upcoming Royal Caribbean repositioning cruises 2024 to truly fantastical destinations? Choose between some of your favourite Royal ships, with repositioning cruises available at a truly affordable price.
Whether you want to sail into Asia, out into North America, the sunny shores of the Caribbean and South American countries like Puerto Rico, or are planning to head back to home in Australia, there will undoubtedly be Royal Caribbean repositioning cruises for you to choose between all year round.
Royal Caribbean Cruise Deals Departing from Brisbane and Sydney
At Cruise Guru, our Royal Caribbean deals are available from ports throughout Australia. As a result, no matter where you are in Australia, you will be able to find Royal Caribbean cruises that are convenient for your location. If you do wish to depart from a different city including Royal Caribbean cruises from Sydney, we can also help you to arrange transfers and hotels. This will give you an all-in price for your dream cruise.
There are plenty of choices of destinations and types of Royal Caribbean cruises, whether you are looking for a Royal Caribbean Brisbane cruise, a Royal Caribbean Sydney cruise, or one from anywhere else in Australia. You can also start your voyage overseas and select a cruise that travels back to Australia. Cruise Guru can help to arrange all the details and create the perfect itinerary for you. Browse our Royal Caribbean Australia cruises that we have available and if you have any questions at all, contact us today, and we will answer them as quickly as we can.
Plenty to Do on Royal Caribbean Cruises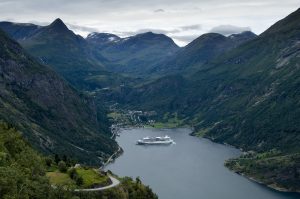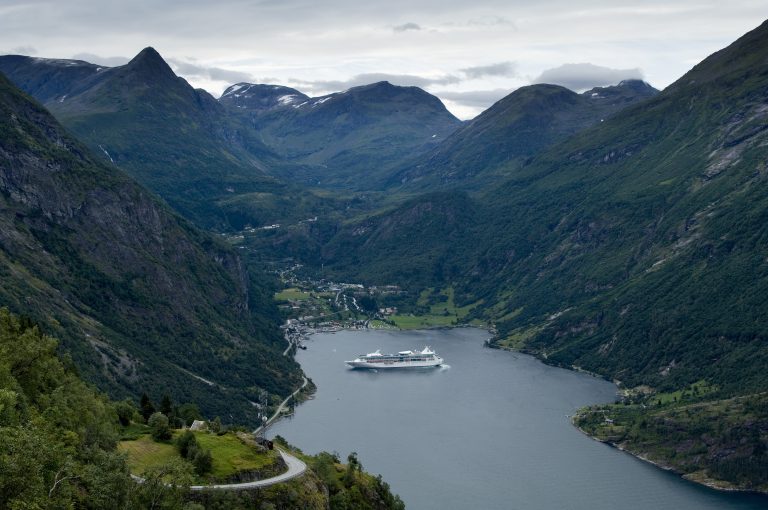 Our Royal Caribbean sale Australia have great deals across multiple ships, and you'll never be bored onboard with the variety of activities on offer. From rock-climbing walls, ice-skating rinks, zip lines, bumper cars, the signature FlowRider surf simulator, and exclusive skydiving thrills of RipCord by iFly, the list just keeps going.
Royal Caribbean cruises were also the first to bring the best of Broadway to the high seas, staging full-length productions of hit musicals like MAMMA MIA!, Cats and We Will Rock You. The world-class entertainment program includes dazzling only-on-Royal stage ice, aerial, dive and multimedia shows, plus dance clubs, bars and lounges that never charge a cover.
Whether you are old or young, want an action-packed adventure, or sit and relax and enjoy the atmosphere, there is plenty to keep you entertained and a Royal Caribbean cruise for everyone. All our Royal Caribbean cruises include room service, which is available 24 hours a day, and there is no need to feel disconnected when at sea with fast and reliable internet. You can be as active or relax as much as you want when you choose one of our excellent Royal Caribbean cruise deals.
Why book Royal Caribbean Cruises with Cruise Guru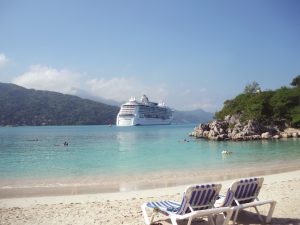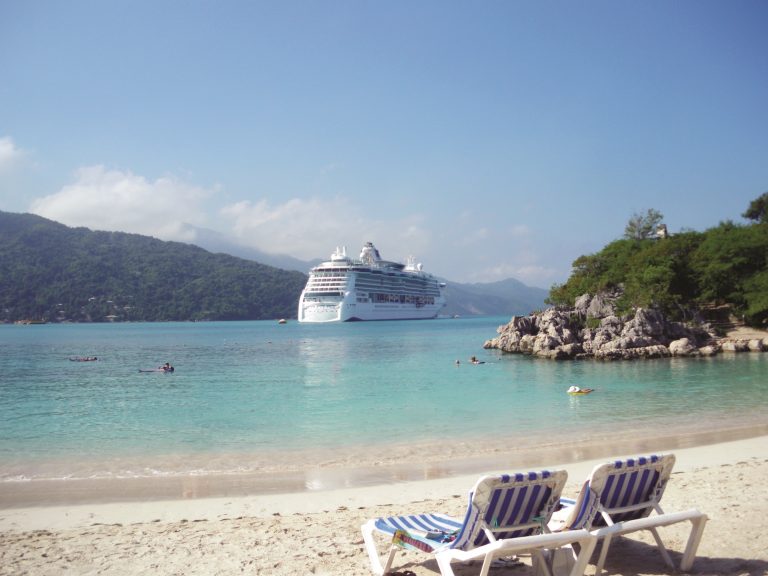 If you're looking for the best Royal Caribbean cruises on offer online, there is no better location than Cruise Guru. We offer amazing Royal Caribbean deals and extraordinary Royal Caribbean sales available on exciting itineraries available throughout the year! Our team has over 35 years of experience in providing the highest-value holidays and luxury cruises to Australians.
As you can see by our online reviews, we have had many happy customers who love our services organising Royal Caribbean Australia cruises. Our experience within the travel industry, as well as our excellent relationships with Cruise Line companies, means that we can offer not only fantastically priced Royal Caribbean cruises Australia-wide but also many other Cruise Lines.
We have excellent value-for-money offers from P&O Cruises Australia, Oceania Cruises, Carnival Cruises, and Princess Cruises to name but a few. When you book your cruise with Cruise Guru, you also benefit from our Price Guarantee.
You can book your cruise online 24 hours a day, 7 days a week. Plus, we are here to answer any questions that you have about our Royal Caribbean cruises, and you can get in contact with us today through your preferred method. Let us help you book a fantastic Royal Caribbean cruise that will have you making memories that will make you want to go on another voyage soon.
Frequently Asked Questions for Royal Caribbean Cruises
How do I get the best deals on Royal Caribbean Cruises?
To get the best deals on Royal Caribbean cruises we recommend booking as early as possible, preferably as soon as the sailings get announced! As the departure date grows closer and closer, Royal Caribbean cruises tend to increase in cost. This is due to the increasing demand for booking and a decline in availability to book a cabin or suite.
If you're looking for the best deals on upcoming Royal Caribbean Australia cruises, then you've come to the right place! Not only do we offer the lowest prices on all Royal Caribbean Australia cruises, but we also have the low-down on the latest sales and offers that you want to see. From massive price savings, reduced deposits, to fantastic inclusions such as Wi-Fi and dining, we'll likely have the perfect deal on the Royal Caribbean cruises you're looking to book.
Can I bring alcohol on a Royal Caribbean cruise?
Royal Caribbean cruises guests are not allowed to bring beer or spirits onboard. However, guests can bring up to two 750ml bottles of personal wine or champagne per stateroom in their carry-on luggage. Each bottle consumed onboard may also incur a corkage fee.
Any additional bottles of wine beyond the two will also be allowed onboard alongside any alcoholic beverages you've purchased in port or via a Royal Caribbean cruise ship shop. However, these will be stored by the Royal Caribbean cruise ship and will only be delivered to your stateroom on the last day of your Royal Caribbean cruise.
What Royal Caribbean cruise ships visit Australia?
The following Royal Caribbean cruise ships visit Australia:
Ovation of the Seas
Quantum of the Seas
Brilliance of the Seas
Aussie travellers can choose between Royal Caribbean cruises from Sydney or Royal Caribbean cruises from Brisbane. Each of these departure ports offers itineraries taking guests on splendid voyages across Australia, New Zealand, the South Pacific, and beyond. Royal Caribbean Australia cruises are all but guaranteed to whisk guests away on voyages they'll remember for a lifetime.
Whether you're searching for Ovation of the Season, Quantum of the Seas, or Brilliance of the Seas voyages, you've come to the right place. You'll be able to find the best deals on any of these Royal Caribbean cruise ships at an affordable price. Peruse our Royal Caribbean cruises today and you'll quickly find a marvellous offer on the holiday of your dreams.
What is the largest Royal Caribbean cruise ship?
Symphony of the Seas is currently the largest Royal Caribbean cruise ship on the fleet, with its total length coming into a total of 362.1m (or 1,188ft). Capable of accommodating 6,680 lucky passengers amongst 2,750 cabins, Royal Caribbean cruises on this ship will be nothing short of epic! While not sailing on a Royal Caribbean Australia voyage soon, we cannot wait to see Symphony of the Seas sail down under in the future.
Worried that you can't book Royal Caribbean cruises on Symphony of the Seas? Not to worry, she's part of the Oasis class and there is a selection of Royal Caribbean ships designed in a similar size! From the first of its class Oasis of the Seas or the spending Harmony of the Seas, you'll undoubtedly have plenty of choice when booking Royal Caribbean cruises.
What can you take on a Royal Caribbean cruise?
You can take a whole load of things aboard a Royal Caribbean cruise! Here's a quick Royal Caribbean packing list of essentials:
Passport
Plenty of comfy clothing
Portable charger
Beach-going attire
Sun-screen and aloe vera
Formal and casual shoes
Binoculars
Guests are also welcome to bring aboard non-perishable, pre-packaged food on Royal Caribbean Australia cruises. However, this is only allowed in a limited quality. Similarly, non-alcoholics are permitted on Royal Caribbean cruises, but cannot exceed 12 500ml cans, bottles, or cartons per stateroom. You can additionally bring onboard Royal Caribbean Australia voyages milk and distilled water for infant, medical, or dietary use. For further information on this, please contact Cruise Guru or Royal Caribbean Australia directly.
Keep in mind that Royal Caribbean cruises are at their best when you try and experience everything on offer aboard Royal Caribbean ships. So, don't overpack and keep an open mind!
Are there Royal Caribbean repositioning cruises?
Definitely! The world-renowned cruise line regularly moves its ships across the globe as it seeks sunny summer shores. Typically, there'll be Royal Caribbean repositioning cruises ready to book at any moment. Guests on Royal Caribbean repositioning cruises start in one location and then end their journey in a new bucket-list locale. The best part of these voyages is that they're relatively affordable. So, if you're planning a holiday on a budget, we strongly recommend trying out a Royal Caribbean repositioning cruise. Plus, if you love your sea days, then these popular voyages are the perfect match for you!
Contact Cruise Guru today for the best Royal Caribbean Cruises Sale Deals
We are here to help our customers in any way that we can, and if you have any questions that you would like answered, there are multiple ways to get answers. The first place to look is our FAQ Page. If you cannot find your answer there, you can request a call back by clicking here, and one of our advisors will call you at the time of your choosing. You can also use our online contact form and we will answer your questions as quickly as possible. Let our time find the right Royal Caribbean International voyage or close-to-home escape for you.
You can keep up to date with all the latest cruise news, special offers, promotions, and competitions follow us on Facebook or Instagram. If you are looking for the perfect cruise, consider Royal Caribbean Australia from Cruise Guru and enjoy magical moments while you make memories that will last forever.
Need help? Call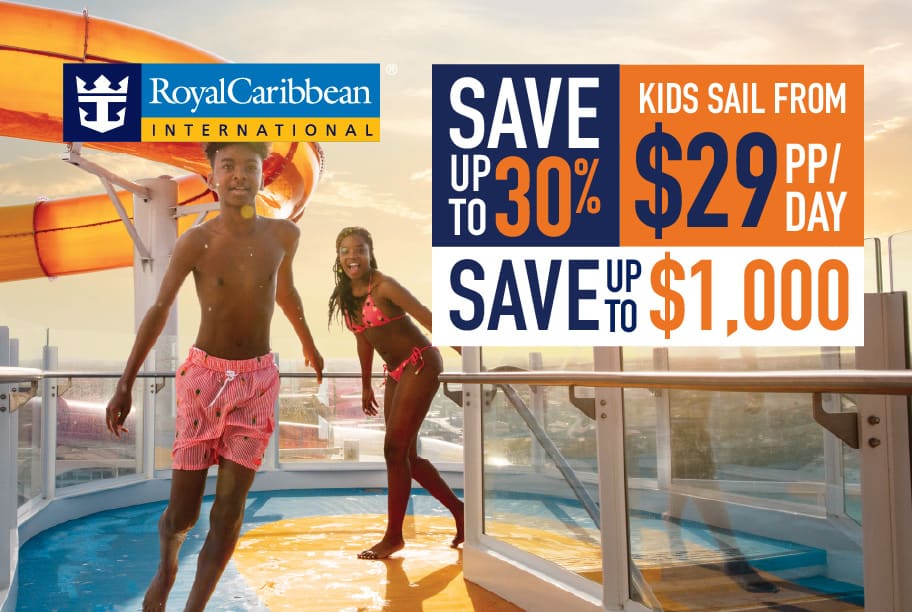 AUSTRALIA/NZ/PACIFIC
Save up to 30% off with Royal Caribbean! Cruise locally with Royal and enjoy great savings + kids sail from $29 pp/ per day*
View Now
Included with your cruise fare
All onboard meals in the main dining room and buffet
A selection of onboard entertainment
Room service
Flowrider
Rock Climbing Wall
Ice Skating Rink
Mini-golf and golf simulators
In-line skating track
Seaplex including roller skating rink and bumper cars at sea
North Star (except for on China sailings)
Ripcord by iFly (except for on China sailings)
Laser Tag: Battle for Planet Z
Water park and water slides including Tidal Wave, Riptide, H2O Zone Water Park, The Perfect Storm, The Blaster and Splashaway Bay
Zip Line
Table Tennis
Ultimate Abyss
Merry-Go-Round
Sky Pad trampoline experience
Included when you book a Junior suite
Welcome amenities
Stateroom service provided by a suite attendant
Included when you book a suite
Dedicated check in lines
Priority departure lounge
Complimentary 24 hour room service
Reserved VIP seating in the main theatre
Priority bookings for salon and spa appointments, tendering tickets and shore excursions
Dedicated suite attendant
Complimentary luggage and valet service
Welcome amenities
Additional suite inclusions on Oasis and Quantum class ships
All day access to Coastal Kitchen
Suite Lounge Access
Complimentary Voom, the fastest internet at sea
Access to Sun Suite deck
*Inclusions are subject to change at any time.  Activities vary by ship.